Tree Surgeons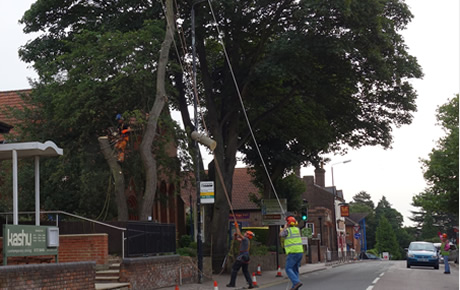 We are specialist tree surgeons located in St Albans, Hertfordshire specialising in tree pruning, crown shaping, stump grinding & much more.
Free quote for tree surgery based on pictures
Packing & green waste removal available upon request
Fully-equipped & certified tree surgeons
Oakapple Landscapes tree surgeons Hitchin are the right choice when your trees require some sort of maintenance. We offer all tree services from pruning and height reduction to complete removal, our specialist tree surgeons can advise and complete the necessary work promptly and efficiently. They will make sure the job is carried out exactly as agreed with you and that the area around each tree is completely safe.
For tree surgeons Hitchin call us today on 01727 822928.
Types of Tree Surgery
Pruning and Lopping
Essential for the health of your trees and should be done regularly. Any unhealthy branches will be removed to ensure the healthy growth of your tree.
Shaping
This means that the crown of your tree will be kept at a certain size in order to prevent accidents and any damage to your property or passers by
Height Reduction
A tree can become a natural hazard if it gets too high. We can advise you on the maxium height your trees should be and maintain them at that size.
Tree Removal
Sometimes you just need a tree to be removed for whatever reason. Our experienced tree surgeoncs can help plan and execte the removal
Emergency Tree Work
Storm and wind damage can result in trees falling and become dangerous. We can cut and remove these and collect and dispose of the generated green waste upon request
Deadwood Removal
Sometimes for natural reason trees or branches may fall. Our tree surgeons can easily remove them from your property for you.
Stump Grinding
We can remove any tree stumps on your property which may be getting in your way.
For tree surgeons Hitchin call us today on 01727 822928.
How does it work?
This is what to expect from Oakapple Landscapes in your need our tree surgery services:
An experienced tree surgeon will visit your property and inspect the trees on site
The tree surgeon will discuss the details of the job with you explaining the important details and give you an estimated price for the work
The tree surgery service is not limited in time and the price is based on the height of the tree, the size of its crown, and the results you want to achieve
If given the go ahead, our experience tream will proceed with the job, utilising all their skills and professional equipment to achieve the results you want
For tree surgeons Hitchin call us today on 01727 822928.
Please Note
As you may be aware, some trees are protected and you might need to get a permission from your local council to perform any modifications on them. If you need specific advise on this, your local council will be able to help you.
Tree Surgeons Hertfordshire - areas we cover